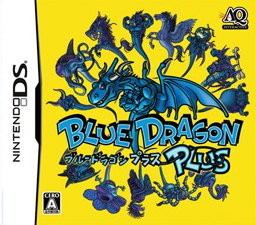 Blue Dragon Plus (ブルードラゴンプラス Burū Doragon Purasu) is a Japanese RPG designed by Mistwalker and developed by Feelplus and Brownie Brown and published by AQ Interactive in Japan, for the Nintendo DS video game console and is based on the Blue Dragon series. The game was revealed by the Japanese magazine Shonen Jump, and released on September 4, 2008.
On December 13, the first screens were shown in Shonen Jump, showing that the game will use 2D sprite graphics. Also revealed was the game's true genre, which is TRPG (tactical role-playing game), likely similar to the Fire Emblem series.
One year after the events of the original game, the world continues to embrace and explore the cube worlds that resulted from the opening of the planet's core. One day King Jibral and Zola encounter a mysterious evil dragon shadow at one of the cubes. Zola has a bad feeling about it and after informing Shu and the party, they find themselves on another adventure to discover this new threat.
Playable Characters
Edit
The following is a list of the playable characters in the game. Each character is able to wield their own Shadow.
Image Gallery
Edit
At first, many speculated this game as a card-based RPG due to a mistranslation of the scan which contains the announcement on various sites, a few sites have confirmed that the card game portion of the announcement is about a special event that will give away cards from the Blue Dragon card game by Konami for a limited time.